If you have ever wondered what to pack for your trip to Orlando, then this guide is just for you.
When you rent a vacation home like Sunshine Villa, packing becomes a whole lot less stressful. It's as if you are leaving your home and relaxing in another one. This guide will walk you through what to pack for your Orlando vacation, no matter what time of year you are visiting.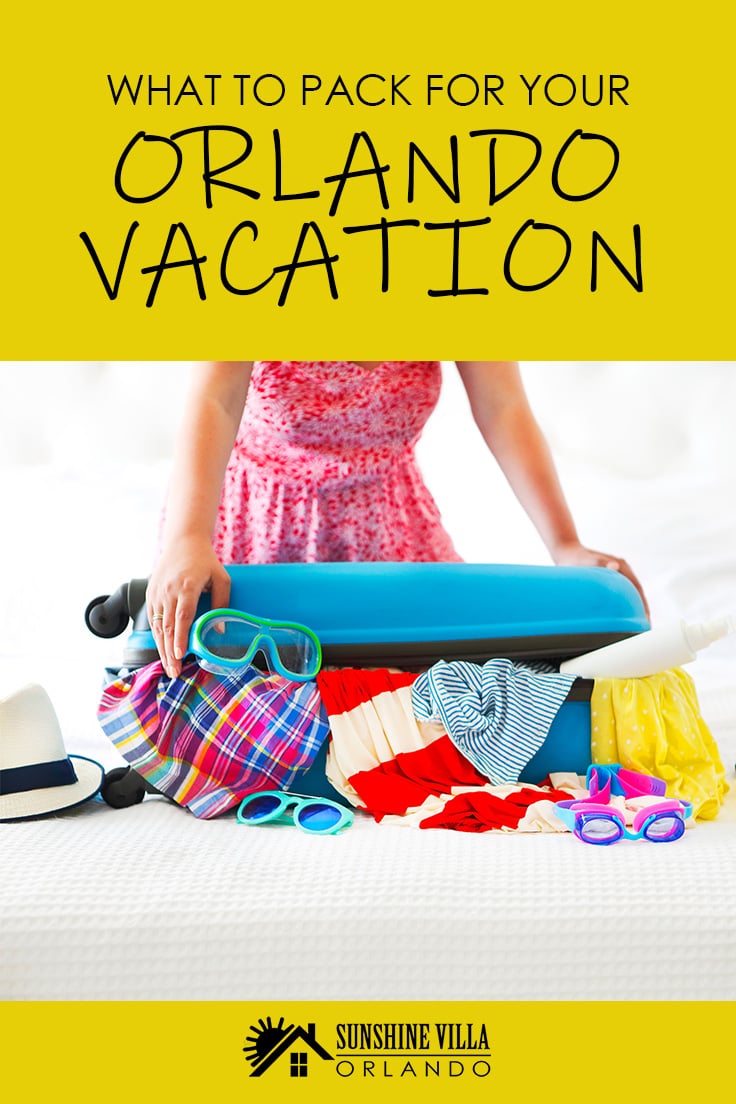 What To Pack For Your Orlando Vacation
Are you looking forward to an upcoming vacation to sunny Orlando? It's one of the best places in the United States to visit. There are so many parks, places to eat, and live shows to see. Plus, you can't beat the year-round amazing weather.
Packing is one of those things that can seem stressful at the time. Some people end up overpacking (and carting around all that luggage is no joke). While other people end up underpacking and not having enough when they arrive.
That's why we created this guide for you. We want to help make your vacation planning go as smoothly as possible.
What Not to pack when you stay at sunshine villa
The really amazing thing about staying at Sunshine Villa is that since it's a vacation home, there are lots of things here already. Here is what not to pack, since it's already here at the house.
Board Games
DVD Player – There is Blu-Ray DVD player in the living room
Clock Radios
Hairdryers
Iron/Ironing Board
Picnic ware
Ice packs
Towels and wash cloths
First Aid Kit
Coffee maker
There are lots of other things in the villa too. Read through the complete list of items we provide, all for your comfort.
Forgot Something? Don't Worry!
If you arrive at the villa and realize you forgot to pack something, you don't have to worry. We are just a few miles away from both a Walmart and Publix supermarket. Some people actually prefer to pack light and buy disposable things (like sunscreen and ponchos) when they arrive.
Now that you know what to leave at home, let's look at what you should pack. To make it easy, I'll break it down by season so you can pick out what to pack based on when you are visiting.
What To Pack in the Winter
Winter in Orlando starts around December and ends about March.
The average high in Orlando in the winter is about 70 degrees. But you should keep an eye on the weather before you leave. Sometimes it can dip down to a chilly 50 degrees.
And the wintertime is when it's the rainiest here in Florida. Always pack an umbrella, some ponchos, and closed-toe shoes.
You should always pack sunscreen. Even if it's cloudy outside and not at all warm, the sun can still cause damage.
Here's a winter packing list.
Sunscreen
Long sleeves
Light jackets or hoodies
Ponchos
Bug spray
Extra socks
An extra bag for bringing back souvenirs
What to Pack when you visit Orlando in the spring
The weather starts to warm up a bit in the spring, but it can still feel a bit chilly once in awhile. Be prepared by packing some long-sleeve shirts and other clothes you can wear in layers. When you go out, bring a large bag or backpack, that way, if it does get warmer, you can just put your hoodie in your bag.
Here's what to bring to Orlando if you are visiting in the spring:
Sunscreen and sunburn products
Closed-toe shoes
Pool clothes (swimsuits, coverups)
Raingear (umbrellas, ponchos)
Water bottle
Bug spray
Extra socks
What to pack in the summer
Summertime in Orlando is the most popular season of all! The weather is balmy and sunny most of the time. Definitely remember that sunscreen and maybe a hat.
Here is what else you should pack in the summer:
Hats
Summertime clothes
Sandals
Umbrellas
Large beach bag
Extra phone battery packs
Bug spray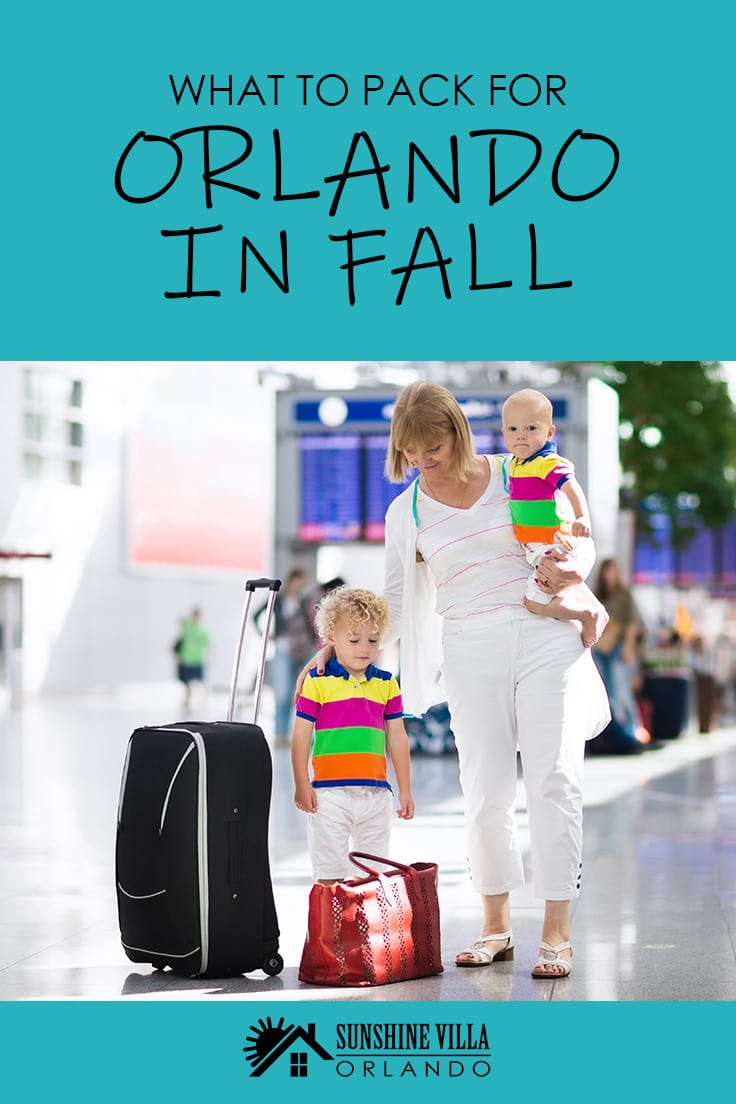 What to pack when you visit Orlando in the fall
Autumn in Orlando is beautiful! The weather is just starting to cool down and there is an excitement in the air about Halloween. Since it's not the peak tourist season, it's easier to navigate around town.
If you are going to visit in the fall, here's what to pack:
Pants and long sleeves
Closed to shoes
Umbrellas/ponchos
Backpack
Change of clothes in case the weather changes
Bug Spray
Sunscreen
Hats
Ready to visit Orlando? book your stay
Anytime is a fantastic time to visit Orlando! Are you ready to make your vacation dreams happen? Contact us and book your stay. We can't wait to help you make the most amazing vacation you'll always remember.