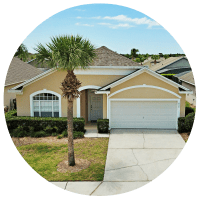 Thank you for your interest in staying at Glenbrook Villa in Clermont, Florida near Walt Disney World and other Central Florida Attractions! In May 2019, the home was sold by Tessa and Dermot Roff to Kent and Carrie Ypma. Kent and Carrie are excited to welcome you and your family and have renamed the home, Sunshine Villa at Glenbrook Resort.
Kent and Carrie are committed to providing the same high quality hospitality experience you know and love from your previous stay at Glenbrook Villa. To that end, the same property management team, Florida Ideal, continues to serve our guests in Orlando and handles the day to day operations during your vacation.
We invite you to view the new Sunshine Villa at Glenbrook Resort website.

How to book your stay
New booking reservations are now being accepted. View our availability and rates.
We look forward to hosting you and your family for your upcoming vacation in the Orlando area!